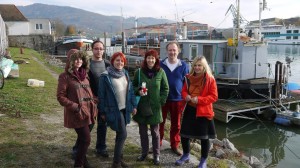 We have a situation! formally began over the weekend of 10-11 November 2011, when the four partner organisations and collaborators met for a planning meeting in Linz, Austria.
The meeting was hosted by Eva Ursprung of Schaumbad Freies Atelierhaus, who organised a weekend residency on the boat Eleonora, moored on the Danube in Linz. This was a great place to start the project, as we were thrown together in a small space where we all got to know each other as we dealt with the generator, solar power, water situation and communal cooking. It was also not the place of any of us, so we were all on neutral ground. It was even still warm enough for us to enjoy lunch on the deck. Vielen dank to Franz Xavier for making the good ship Eleonore available to us!
We discussed practical things such as the budget and timeline, and organisational things such as what online project management tools we need. Martin made a presentation about the current situation of his DownStage project, which led into technical discussions about UpStage. From there, we spent a lot of time discussing the format that each "situation" (workshop and performance) will take, what kinds of people might participate, what research and preparation we need to do and how we will document, monitor and build on each successive "situation".
It was a very inspiring weekend – to finally bring everyone together in one space, when we have been emailing and web conferencing for almost two years in the development of the idea of the project. I had met everyone except René, but most of the others had not met phyiscally at all before. We immediately adopted a pirate theme for the weekend, in keeping with our accommodation, and our evenings were spent getting to know each other over shared meals and warming whisky.
Even though it was a very packed weekend, we did manage to see a little bit of Linz as well. On the first day we walked along the Danube and rested at a park, where our conversation centred around topics of current concern within Europe and whether there should be connecting thematic threads between the "situations" or whether it should be left completely open to the participants; it seemed likely that even with a completely open choice of "situation", there will be connections – since we are all part of the larger ecology. It was a beautiful mild day and we lay on curved benches to have this conversation, listening to the regular beat of traffic passing over an old bridge above us.
On the Monday after the weekend, Eva had arranged for us to have a tour of Ars Electronica. The museum itself is not open on Mondays, but we were shown around by one of the current artists-in-residence, Hideaki Ogawa and got to see quite a bit – some exhibits were not turned on, but others we probably had more of a go with than we would have if the museum had been open. My favourite was a tail prosthesus – shorter and heavier than my gorgeous rat's tail in Second Life but a lot of fun. We also experienced "deep space" – a giant i-max type projection but also going onto the floor so that you can stand in it. Some of this was cool but i have to say that the extreme sport 3D videos made me feel nauseous! We then met Gerfried Stocker, the artistic director of Ars Electronica, and learned a bit more about how it is run and its current "situation".
After this we met with Aileen Dierig, who showed us the Werkstatt am Hauptplatz that she is opening, as an artist's project/residency space in memory of her husband, baroque instrument-maker Peter Hütmannsberger who died in a mountain climbing accident a year ago. The space, in a beautiful historic building in the centre of Linz, is warm and welcoming, as is Aileen who works as a translator from the room next door. I'm sure that many interesting projects will be nurtured here in the coming years!
It was great to start We have a situation! in such an environment of networking and collaboration, to give it a context within Europe's contemporary art-world (from the pirate boat Eleonore to the high-tech Ars Electronica) as well as connecting into its history. We departed with a strong sense of connection as well as a lot of tasks to get started on.