Nationhood? What is it? What does it mean?
Performance: Friday 25 May, 7pm UK time (find your local time here)
in UpStage: Click here to enter the stage.
From 14-25 May 2018, students at Northumbria University in Newcastle, UK, will research the topic of nationhood and use Linda Taylor's "operations of dialogue" process to create performances. Collaborating with Helen Varley Jamieson, the students will use UpStage and the format of "We have a Situation!" to bring their work to a global audience and stimulate transcultural discussions on nationhood.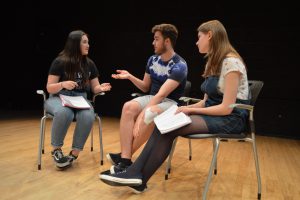 At the beginning of the process, three actors sat down and debated these questions; this was recorded it on camera. At the same time, a group of researchers were given the task to research these questions; they then shared and discussed this information with the actors. They then had conversations over coffee, over dinner and over online platforms with a variety of people about this topic. Further informed by their dialogues with others, the actors then debated these questions again, and again it was recorded it on camera.
The live event on 25 May will present a live re-enactment of key moments from these recorded debates, and opens up these questions to public debate with both a proximal and online audience, asking, what is nationhood?
 The event:

Click here to enter the stage.
Please note that UpStage does not work on mobile devices such as tablets, iPads or smartphones. It should work on any standard computer and browser. If you have trouble entering the stage, please try the following:
check that your browser has the latest version of the Flash player plugin (free download here);
try a different browser;
if you still have problems, your internet connection may be behind a firewall that is preventing access to UpStage.
The team:
Actors: Dan Bell, Ella Davis, Abbie Smith
Researchers: Alisha Potts, Holly Readshaw, Phoebe Topel, Rosie Maley
Tech Team: Iona Moss, Holly Readshaw
Assistant Directors: Rebecca Johnston, June Scott
Project Assistant: Lyn Cunningham
Visiting Artist: Helen Varley Jamieson
Project Leader: Linda Taylor